Creamy Chicken Pasta
May 15, 2017
This is a clone of a recipe I've enjoyed at Ruby's Cafe in SoHo. The goal is a garlicky cream sauce that doesn't feel too heavy.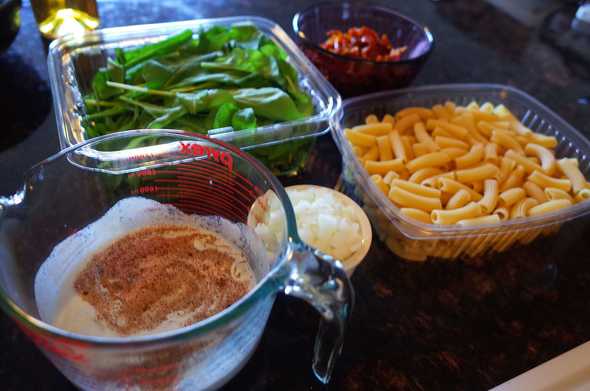 8 servings
10 mins
20 mins
30 mins
Ingredients
1.5 pounds boneless skinless chicken breast, in small bite sized chunks
16 ounces Rigatoni or Farfalle, cooked according to directions
1 tablespoon butter
1/2 teaspoon black pepper
salt
nutmeg
1 tablespoon paprika
3 cups baby spinach or arugala
4 oz. onion, diced
7 oz. sun-dried tomatoes, sliced into thin strips
4 oz heavy cream
3 cloves garlic, minced
2 oz. white wine or brandy
4 oz. parmesan cheese, grated
Written by Will Chiong who lives and works in New York building useful things.