Chicken Tetrazzini
March 03, 2019
As a child raised by the Internet, I first heard about Chicken Tetrazzini from a meme, where it was bafflingly discussed in the context of adultery on a Maury Povich segment, and perhaps because of the memorable name, the dish stuck in my head.
When I saw the recipe being cooked on Giada Di Laurentiis' Food Network show, I decided to give it a try and really loved the outcome. It's a comforting baked pasta casserole with a hearty cream sauce. Despite its humble associations it is actually a fairly involved dish that demonstrates three important cooking techniques- the construction of a good white bechamel sauce, grilling chicken breasts properly, and sautéeing mushrooms.
As you can see in this recipe, I am using one wide metal sauté pan for the chicken, mushrooms and sauce. While I would normally prefer a nonstick surface for the chicken and mushrooms, I use the saucepan because I want to use a metal whisk to make the bechamel, and I can't use a metal utensil in my nonstick pan. It's a tradeoff, but the sauce really benefits from being cooked in the same pot that the chicken and mushrooms were cooked in previously- the fond leftover from the previously cooked items in the pan will enrich the flavor of the sauce and cause the flavor of the final dish to be more cohesive.
Another cooking tip is that when you're cooking the mushrooms you don't want to crowd the pan. You may want to use the technique I cover in more depth in my sautéed mushrooms recipe to sautee them in batches, moving the cooked mushrooms to the edge of the pan as you add more to complete the batch. To get the mushrooms uniformly sized I also recommend the use of a slicer, which makes slicing something soft like a mushroom easy.
In this recipe I've also usedegg noodles instead of linguine noodles to make the recipe eat in smaller bites, but I go back and forth on that depending on how I want the dish to turn out.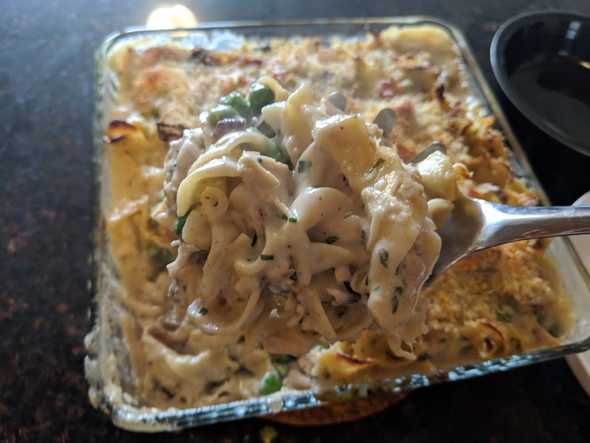 8 servings
20 mins
60 mins
80 mins
Ingredients
12 ounces egg noodles
1.5 Lbs. chicken breasts, boneless, skinless
1 pound white mushrooms, sliced
1 large onion, finely chopped
5 cloves garlic, minced
1 tablespoon thyme leaves
1/4 cup parsley, chopped
1 cup parmesan cheese, grated
1/4 cup panko
10 oz frozen peas
9 tablespoons butter, divided
1/2 cup white wine
1/3 cup flour
4 cups whole milk
1 cup heavy cream
nutmeg
This recipe was adapted from:
Written by Will Chiong who lives and works in New York building useful things.