Chocolate Chip Cookies
December 16, 2022
This is a simple chocolate chip recipe, but there are some simple improvements I got from the Serious Eats cookie article that make the cookies a little fancier. The pefect chocolate chip cookie for me has a crispy crunch on the bottom and still is a tiny bit soft and chewy on top. These steps are all optional but can make the difference between a good and a great cookie. The
Chop the chocolate roughly to give it interesting texture.
Brown the butter on the stove and chill it before incorporating it into your dough.
Whip the white sugar, vanilla, and egg together before mixing in the rest of the ingredients roughly.
Rest the dough after you've mixed it. Serious Eats claims the optimal time is 3 days, but sometimes you can't wait that long.
If you want a simpler recipe you can simply combine all the ingredients and mix them and make cookies.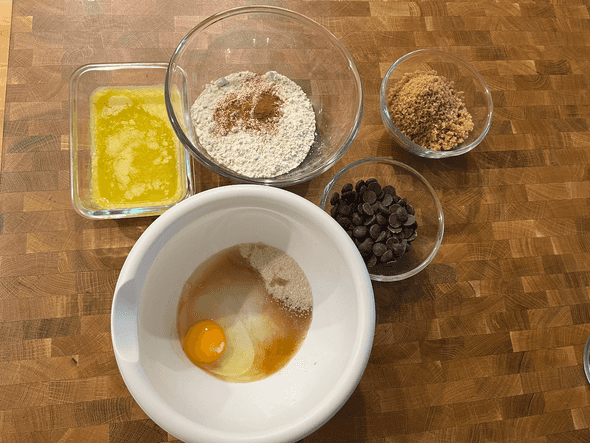 20 servings
20 mins
14 mins
34 mins
Ingredients
112 g butter
150 g all-purpose flour
3 g (1/2 tsp) baking soda
1 g (1/2 tsp) salt
55 g white sugar
115 g brown sugar
1 (50 g) egg
4 g (1 tsp) vanilla
112 g dark chocolate
1 g (1/4 tsp) ground cinnamon, cardamom, or allspice
flaky sea salt to top
This recipe was adapted from:
Written by Will Chiong who lives and works in New York building useful things.